Onsite Ergonomic Evaluation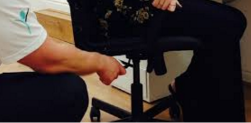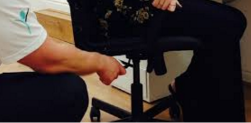 Onsite Ergonomic Evaluation
An ergonomist will meet privately with each individual in their designated work space on location. Ergonomic evaluation goals will include: improving the individual's current workstation orientation and postures through on the spot changes, educating the individual on neutral ergonomic postures and opportunities to self-correct, identification of ergonomic risk factors/red flags, and data collection regarding comfort/discomfort status and to identify work tasks & general work habits. At the close of the evaluation the ergonomist will have collected necessary data for report generation, be it a formal write up or a brief synopsis.
These evaluations are ideal for workers with symptoms, involved in physical and occupational therapy and those who work in high-risk jobs, such as data entry and materials handling. As part of the evaluation process, we will provide a detailed report of overall ergonomic conditions with workstations and work areas, changes made to the workstation and recommendations for future modifications. During the 1: 1 Onsite intervention, the ergonomist will deliver the following services during the 60 to 90-minute session;
Review of any prior or provided self-assessment and the recommendations attempted by the employee.

Symptom Survey & RULA Postural Score/Test

Implementation of recommendations for modifications or tools based on the employee's specific issues and job tasks. Changes that can be made immediately will be completed by the consultant, and with the client's permission.

Photos (Before and After if Indicated)

Summary Report with recommendations & Links

Off Site Report Generation (provided within 72 hours of the workstation evaluation).

Documentation of risk reduction provided electronically to the employee, manager and other appropriate departments.
The full service assessment rate for your organization is $469 for one person per site, per visit. Virtual & Onsite Ergonomic Assessments overview (PDF Download).